Home
> FSG Brochure for International Students (Students Support)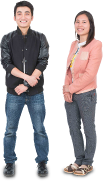 FSG introduces a variety of part-time jobs for students, including manufacturing at factories and services at restaurants and so on.
Examples:
Food industry (boxed lunch), delivery service, building cleaning service, restaurants, supermarkets, hotels, family restaurants and so on.

FSG provides wide support to help students to find positions in Japanese companies and overseas subsidiaries.
●Dual support by the class instructor and dedicated job-hunt support staff
●Job hunting guide in Japan and overseas (resume development and interview trainings, etc.)
●Corporate training through internship programs
●Job information for international students


Fukushima Prefecture and Koriyama City, where FSG locates, provides rich student support.
Fukushima Prefecture
●Free Pass for cultural facilities in Fukushima
Koriyama City

①Housing Expense support:
5,000 JPY/month for students paying more than 5,000 JPY/month. ※As of 2015
②National Health Insurance enrollment support:
1/2 of National Health Insurance fee provided
③Citizen Transpiration Disaster Welfare enrollment support:
Transportation Disaster Welfare fee (500 JPY/year) provided.

FSG provides housing information with a wide range of rent, from studios to share houses.

Renting an apartment in Japan requires a co-signer. FSG College League schools, members of the International Student Housing Guarantee Program, can serve as a co-signer.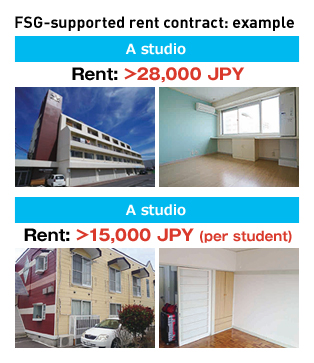 ●Class Teachers
The class teachers supports his/her class students. Detailed support for each student from course study to campus life.
●Professional Instructors
Latest educational environment with professional instructors from the front-lines in various industries.
●Japanese Language Learning Support
"Japanese Supplementary" classes and "Business Japanese" classes are offered.
●FSG International Center
Center of entire FSG College League's international activities, serving as a contact point for affiliated schools, information center for international students, and campus life support provider. FSG International Center also provides various guidance for visa application, scholarship application, course studies and so on.